Check Out Our Current Promotions & Special Offers
Motorola P25 APX™ Public Safety Radios for Western and Northern Michigan First Responders
When every second matters in an emergency situation, communication is vital to help keep everyone informed, updated, and safe. Every feature and function of our Motorola P25 radios have been designed with users in mind for durability, intuitive operations, and clear audio.
Request a quote today, and you'll keep your community safer than ever before.
Meet APX N - The Best in What We Do. Evolved.​
The all new APX N line of P25 radios gives you the next-generation capabilities you need with the core functionality you expect – rugged, secure, intuitive mission-critical communications.
Built on the rugged APX framework, APX N radios are ready to work where you work.
All models are IP68 rated and tested to military standards with large screens and easy to navigate menus.
Sleek lines, easy to hold, and intentionally designed for easy operation with intuitive interfaces, large controls, programmable buttons and ViQi voice control.
Loud and clear audio with background noise suppression keeps teams communicating in chaotic environments.
Radios work reliably across a variety of P25 channels and can even switch to SmartConnect when out of coverage.
And, you can keep your entire fleet up-to-date and secure by batch programming over WiFi, without taking them out of service.
APX N – an industry-leading combination of durability and performance to keep your teams safer and more efficient. Engineered for today and ready for what's next in mission-critical communications and your wider public-safety ecosystem. Contact us today for your free quote.
Motorola APX Portable Radios
In emergencies, when safety is on the line, clear and fast communication is critical. Motorola APX™ portable radios provide optimized communication systems, unique solutions to minimize interference, and a reliable voice to help your team maintain a connection. Additional features include all-band to enable communications across multiple agencies, Wi-Fi for faster wireless updates, and an adaptive Audio Engine to provide connection in any environment. The durable and compact design is easy to handle, allowing your teams to operate efficiently, without any complex operating controls.
With Motorola APX portable radios, you get connections you can rely on. We provide you with the hardware you need, along with the service packages you require to optimize your portable radios for your unique operation.
Motorola APX Mobile Radios
In mission-critical emergencies, communication is vital. When sirens, loud equipment, or engine noise are at their maximum volume, clear announcements are essential so that your team can focus on the task at hand, instead of struggling with radio operations to hear the message. To deliver operability for first responders, Motorola APX mobile radios provide a solution for best-in-class audio and intuitive technology. They have multiple channels for better coordination, support for integration into vehicle consoles, and encryption capabilities for added security.
With Tele-Rad, you have access to the largest portfolio of Public Safety P25 Radios in Western and Northern Michigan and Motorola APX mobile radios in the industry. That includes everything from affordable single-band mobiles to sophisticated units with GPS, Wi-Fi, and Bluetooth® functionality.
If you're looking for more than just hardware components, we offer infrastructure, dispatch consoles, and software applications to complete your communications system. Intelligent lighting, radio profiles, and text messaging are other software features that we can integrate into your unit. From small conventional networks to large-scale trunked systems, we have the support, coordination, and intelligent systems to build whatever you need.
Our staff knows Motorola P25 Radios inside and out, and we will answer any questions you might have—whether it's about accessories, terms, or pricing. Request a quote today to learn how we can meet your public safety radio needs, and you can continue to keep your community safe.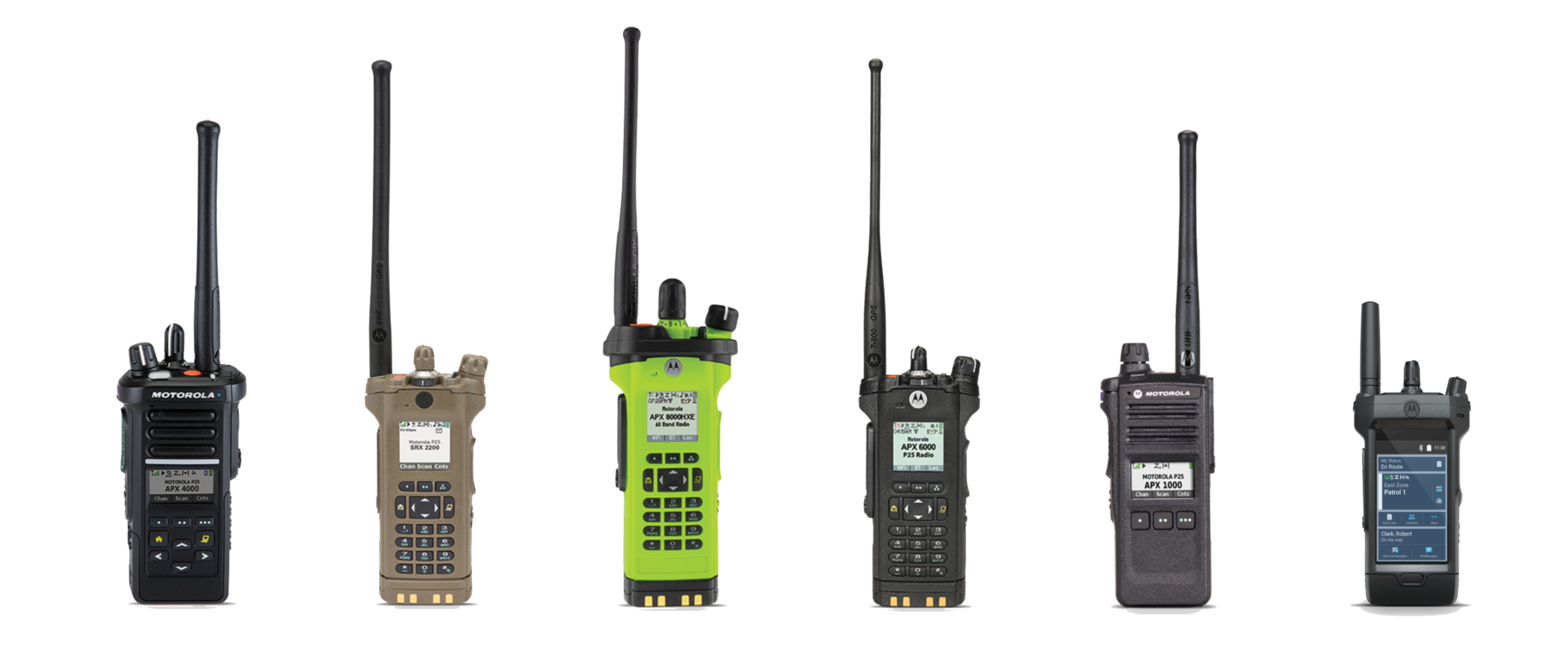 Get in touch to find out how Tele-Rad can help you.