CASE STUDY: Bowerman Blueberries Farm Market
Since 1954, the Bowerman family has grown delicious and healthy Michigan blueberries. They are expanding, both in terms of products and services and physical size, and have decided to partner with Tele-Rad and invest in Avigilon video surveillance.
The Avigilon cameras and software have not only increased the safety and efficiency of their farm and store, but also provide business tracking metrics, such as how many customers enter the store and how long they stay.
Tele-Rad is the only Motorola Solutions partner in Michigan with the certifications, service and experience to design and integrate the full Motorola Solutions Safety Reimagined ecosystem. We can work with you to integrate camera systems, two-way radio communications, and so much more.
As with any project, one of the first steps in our partnership with Bowerman Blueberries was to walk through the facility, discuss current problems and future goals, and work together to design solutions.
We brought together what had previously been two separate security systems, using the fiber connection between the farm store and operation building. This eliminated the operational inefficiencies and security concerns of having two separate systems.
Perimeter security was also a concern. We used Avigilon multi-sensor cameras in key locations, to expand the view without expanding the budget.
Finding a scalable solution was also important – being able to add or change later without prohibitive upfront investment. As a part of our immediate solution, we used the AI NVR with an analog encoder, which allowed them to continue using some of their existing cameras while still benefiting from the Avigilon analytics engine.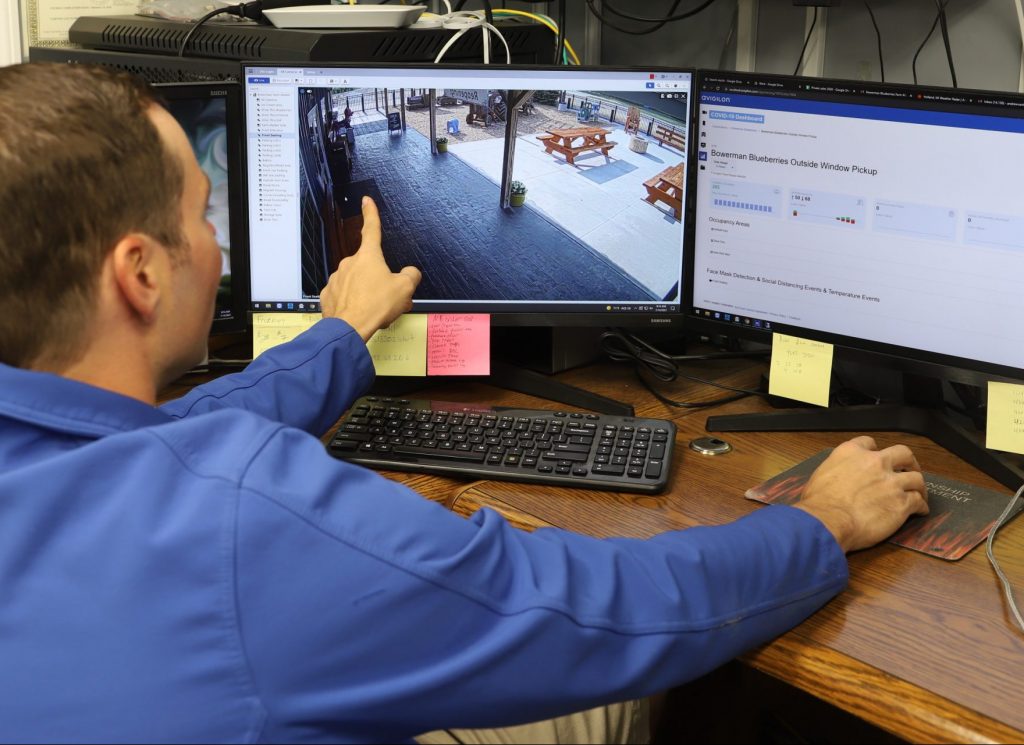 Advanced Analytics at Work
In addition to security, the Avigilon camera system at Bowerman Blueberries is providing intelligence and business metrics. Based on real time alerts and historical data, they can track and analyze visitor counts, drive thru traffic, occupancy metrics, and more.
Looking to the future, Bowerman Blueberries has announced an expansion into downtown Holland, where they will serve both locals and tourists flocking to the award-winning 8th Street corridor. We encourage you to plan a visit, and while you're there, smile for the camera! 
Contact Tele-Rad to Learn More about Security Solutions!
Video Surveillance
High Quality Imagery
Control Center Software
Focus of Attention Technology
Scalable Solutions
Video Playback and Storage
Self Learning Video Analytics