Are your communications on par?
Nothing speaks to improving efficient and guest service like next-generation communication solutions adapted to your needs. Differentiating your property through exceptional service is one of the best ways to attract and retain customers.
Clear communication between your staff is key to seamless, efficient operations. But with spanning resorts, busy restaurants, and the average 18-hole course covering more than 100 acres of land, ensuring reliable communication can be challenging.
Pleasing your clients is critical, and often time is of the essence. Seamless communications help deliver the guest service that keeps them coming back. Accidents and injuries also need prompt, effective response. On-site medical assistance teams have to know exactly where to find someone who needs help. Duty managers must be able to give first responders clear and precise information about any incident, directing them quickly to the correct location.
All of this is possible with digital radios from Motorola Solutions.
The Golf Industry is a Competitive Game
From the front nine to the back nine, ensuring a positive and seamless guest experience is crucial. Timely communication is key to staying connected and delivering the best possible customer service to everyone who steps on your grounds.
But with the average 18-hole golf course covering more than 100 acres of land, communication from the clubhouse to the fairways can be challenging. Two-way radios are a must-have tool to allow your entire staff – groundskeepers, management, clubhouse and waitstaff, pro shop, beverage cart operators, maintenance, parking attendance, starters, marshals and golf cart attendants – to communicate instantly and seamlessly.
With a range of features and models to choose from – including non-display, limited and full key-pad – the MOTOTRBO CP100d Series provides your team with one cost-effective system that provides wide area coverage wide area coverage to bolster your operations and guest experience across the entire facility.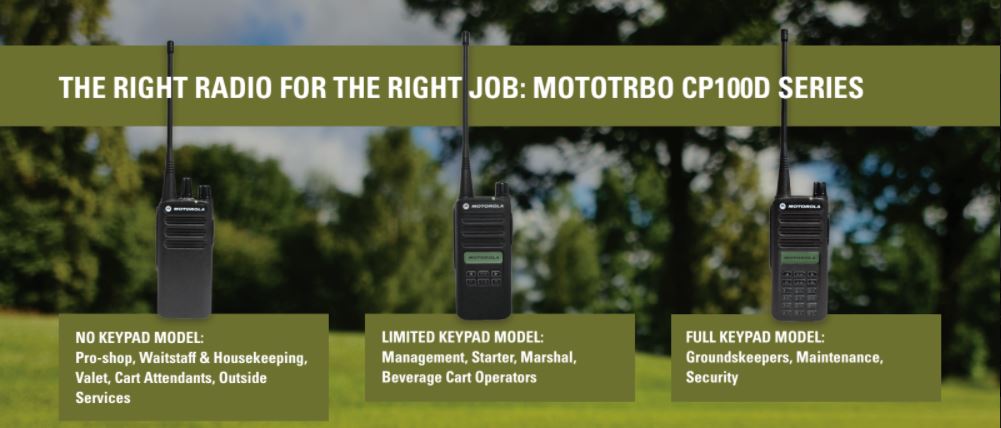 Why Digital Instead of Analog?
Moving from analog to digital doesn't simply boost the performance and efficiency of your radio communications, it provides an entry-point to a range of integrated applications and solutions that can unify communications from end-to-end, transforming the way your business operates. This includes  video and security, dispatch, work ticketing, and more.
Features include:
Better signal range. Increase communication with digital signals that ensure wider radio coverage across your entire course and facility.
Improved audio quality. Leverage the clarity of a digital signal that is far superior to analog. MOTOTRBO provides superior audio and clearer voice communications with noise suppression that rejects static and filters out background noise.
Longer battery life. Extend your operations with MOTOTRBO's digital radio battery that lasts up to 20 hours per charge. With 35 percent longer talk-time, your team stays connected during everyday operation and events that require extended shifts.
Greater spectrum efficiency. Get two talk paths for each individual frequency, so you can use one repeater, not two—saving money on your infrastructure expense.
Adaptable versatility. Migrate to a digital two-way radio platform at your own pace with the ability to operate in both analog and digital modes, ensuring your new radios work along with your existing analog radios.
Contact your local Tele-Rad sales consultant today to learn more!