School may be out for summer, but now is the time to make plans to ensure the safety of your students and staff members when they return in the fall.
Combining voice, video, software and services, the Motorola Solutions Safe Schools ecosystem helps you not only respond and manage both the everyday and the critical emergencies, but also recognize patterns, anticipate actions and help prevent situations as they develop.
If you're invested in the education of the next generation as a parent, teacher, supporter, administrator, or any other avenue, you'll want to learn more about the Safe Schools ecosystem. Check out this video overview:
Detect, Analyze, Communicate and Respond with Safety Reimagined
Your students, employees and visitors are relying on you to ensure safety with seamless and practiced procedures. Learn how technology solutions can help: 
DETECT:
The first step in responding to an issue, or minimizing a threat, is knowing that it exists. There a number of technology solutions designed to detect, such as:
Video Security, with specialized cameras for every location
License Plate Recognition, to respond to surrounding roads and automatically alerting security and local law enforcement
Watchlist Alerting, to identify suspicious persons or people of interest
Access Control, using a role-based system and instant detection
CommandCentral Community, a way for students to "say something" when they see something using anonymous tip submissions via a web-based and mobile-friendly form.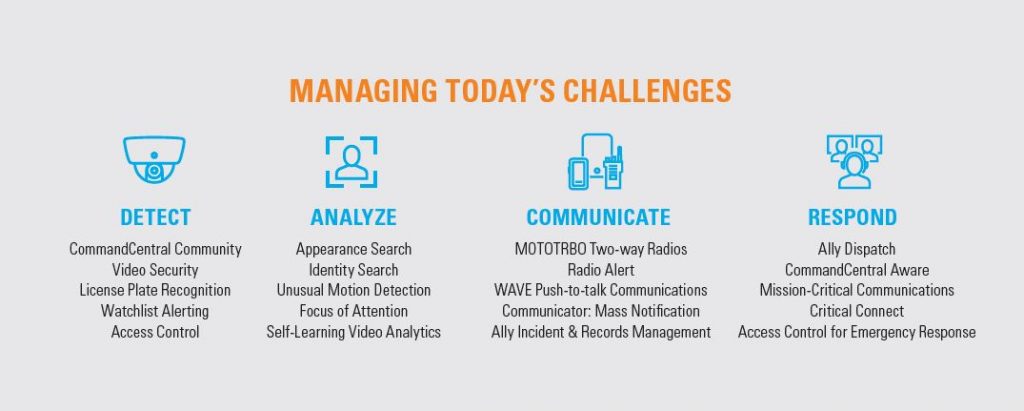 ANALYZE:
Video analytics detect potentially suspicious activity on school property, providing real-time insights into campus movements. There are a number of technology solutions designed to analyze, such as:
Appearance Search, quickly and seamlessly explore video footage using both physical descriptions and facial analysis
Identity Search, intelligently integrating video and ID badge activity tracking
Unusual Motion Detection, to reveal atypical events
Focus of Attention, easily identify where action is required using color-coded hexagons
Self-Learning Video Analytics, with video software that detects abnormal or concerning activity
Ultimately, these insights enable proactive monitoring and management across campus — enabling you to respond to suspicious behavior before an incident occurs.
Unified voice, data, video and analytics
COMMUNICATE:
Connectivity — both on and off campus — is an important part of creating a safe and collaborative educational environment where you and your team are always aware. Learn more about our the communication solutions we offer:
MOTOTRBO Two-Way Radios, enabling you to communicate clearly with superior voice clarity, long battery life, and outstanding range
Radio Alert, provides a way to receive critical alerts on your radio, monitor activity and provide for a more focused incident response
WAVE Push-to-Talk Communications, allowing you to push-to-talk without device, network or geographic boundaries
Communicator – Mass Notifications, notify and mobilize critical groups at a moment's notice with automated alerts
Ally Incident and Records Management, streamlining incident management and records end-to-end
RESPOND:
Whether it's an everyday situation or an emergency, ensure your personnel are able to respond calmly and effectively with minimal disruptions to the learning environment.

Real-time intelligence shares alerts and live video feeds with campus personnel and public safety, enabling a coordinated and informed response. Because a rapid response can be the key to preventing incidents from becoming tragedies. Learn more about the response solutions we offer:
Ally Dispatch, to simplify and standardize your dispatch process and workflow with dashboard views and interconnectivity across devices, networks and
locations
CommandCentral Aware, to provide incident insights with real-time video and direct connections between your school and local law enforcement
P25 Mission Critical Communications, to enable interoperability between school personnel and local law enforcement to ensure a rapid response
Critical Connect, to establish real-time coordination and dynamic, seamless, secure communication with connectivity between two-way radios and
smartphones
Access Control for Emergency Response, to empower an immediate first response with full access to rule-based actions and notifications from any workstation
Every child has the right to learn in a safe and supportive school environment. By bringing together the technologies and solutions you need to detect, analyze, communicate and respond, we're helping you build a safe school.