Almost Everything Is Subscription-Based These Days - Your Radio Communications Can Be Too!
When making a large up front capital expenditure in communication equipment isn't in the budget, why not consider a subscription based model? Cell phones and other portable personal devices can be a realistic route to take. They are almost always in your pocket and offer various capabilities that two-way communication devices don't. However, we also know that cell phones can be a dangerous distraction for drivers, and those additional apps and features can reduce employee productivity. Two-way radios are MDOT compliant for traveling workers, and they keep your team focused on the job. And there's more – cell phones don't allow for instant communication or one-to-many communication. A phone call or text message can be made quickly, but they are not instantaneous as they would be with the push-to-talk feature that two-way radios boast. Luckily, there is an alternative for those looking to communicate safely in real time with multiple people – West Michigan TRBO!
West Michigan TRBO is Tele-Rad's wide area coverage solution. It boasts seven high-power tower sites, each hosting state of the art equipment allowing you to communicate with your team across a single site or multiple sites. With less distractions and enhanced communication between employees, you'll see increased productivity and efficiency across your organization.
Features Include:
● Instant one-to-many communication
● MDOT compliant for commercial vehicle driver communication
● Improve workforce safety, reliability, and efficiency
● Keep your team in constant communication without distraction
● Hand-held and vehicle mounted radio options
● Integration with WAVE smart phone app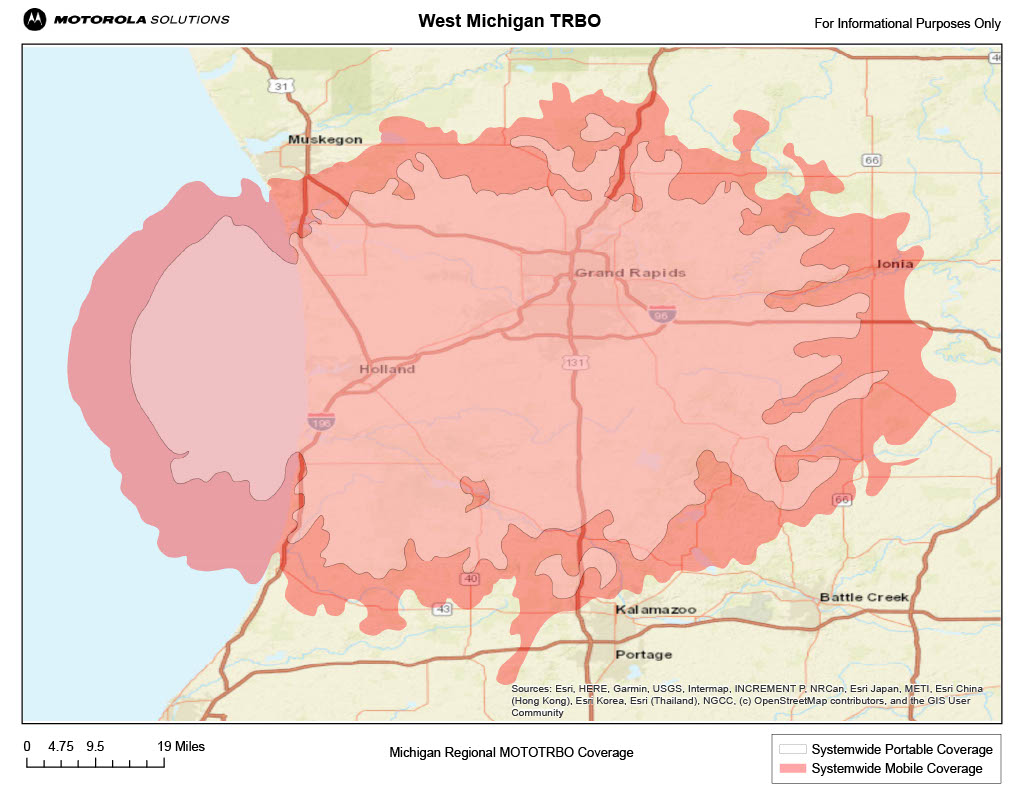 As seen here, our West Michigan TRBO coverage extends through Holland, Grand Rapids, and the lakeshore region, ensuring reliable communication for your teams on the road or at various facilities. 
Need nationwide coverage at the push of a button? Ask us about WAVE for a subscription-based service that integrates your radios with cell phone or desktop users across the county. 
Save Money and Have the Flexibility to Pay for Only What You Need, When You Need It
In some cases, it makes sense to purchase infrastructure and communication equipment. However, the need for communication is not "one size fits all", and the subscription based model of West Michigan TRBO allows for flexibility. With subscription-based pricing and low up-front costs, this solution could be a great fit for your business or organization. Contact us today to learn more and receive a personalized quote!
Contact us for your personalized quote today!