How can we improve coverage?
Bi-directional amplifiers, also known as signal amplifiers, are used to improve radio communications in buildings where signals are degraded due to obstacles that obscure the signal. In schools, which are often constructed with cement blocks, it is incredibly common for radio signals to struggle to come in and out. This can make it difficult for public safety officials to maintain contact in the event of an emergency.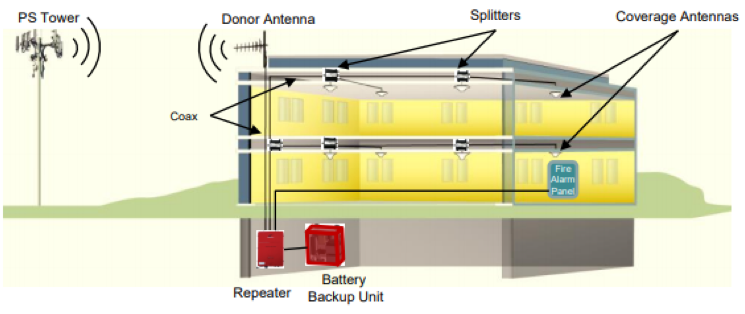 Why should you have a BDA?
It is important to consider the ability of public safety officials to effectively communicate within your schools in the event an emergency arises. In light of pending House bill no. 5561, in which Michigan representatives have proposed requiring increased security and radio coverage within educational facilities, beginning the process of installing a signal amplifier now can give you a leg up in increasing your school's safety measures prior to the law being passed. 
How can Tele-Rad help you?
Tele-Rad offers in-building coverage assessments and enhancement solutions for two-way radio, cellular, and Wi-Fi. Using our advanced frequency monitoring and GPS mapping equipment, we can create a 3D map of your building that shows the existing interior signal strength.  We can then offer engineered solutions for a building amplifier and distributed antenna system to enhance the coverage and provide seamless communication. BDAs serve as a lifeline for first responders to be able to communicate with their two-way radios efficiently. In order to best protect staff and students, a BDA amplifier is an essential piece of a school's ecosystem.
Signal Mapping Solutions
Tele-Rad uses state-of-the-art equipment to map signal strength throughout your building. Identifying problem areas is just the first step in the solution, and we are here to help every step of the way.